Out Of Town Patients
We have been specializing in spinal decompression for the past 17 years. We see patients from all over San Diego County as well as out of town patients from Nevada, Arizona, Utah, Alaska, Mexico and Spain.

To see if you qualify for treatment, give the office a call. Out of town patients, we have 24 hour answering service and there are 3 hotels conveniently located down the street from the office in which most of our patients stay.

Serious inquiries only please. For a no-charge, no-obligation consultation, call our office at 619-298-0800.
Hear What Our Out-Of-Town Clients Say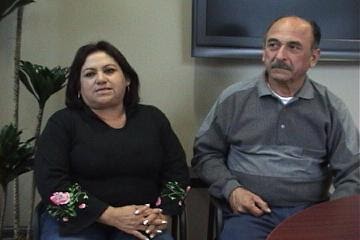 Rosa Algravez, | Age 58 | Calexico, CA
From Calexico, California
Hi my name is Rosa Algravez. I have suffered from leg numbness and low back pain for 4 years. I haven't been able to do groceries or even take baths without pain. I looked for relief with various doctors with no luck. I have done treatments ranging from chiropractic to acupuncture. My husband found Dr. Boelk in the newspaper and we decided since we had tried everything else that we were going to give this a try. After my first few treatments, I feel as though I have returned to 100%. Life for me is completely different. My husband and I have returned to enjoying life. We travel 300+ miles everyday from Calexico. I can do things now with little to no limitations. The staff makes you feel welcomed and it's a very family environment. The payments are easy and I would recommend this to anyone suffering with low back pain. Thank You -Rosa Algravez, Age 58, Calexico, CA
From El Centro, California
Hi my name is Mercedes Bautista. I found out about this treatment on the internet and I came because I was searching for a doctor for my friend. I have always had low back problems, so Dr. Boelk suggested that I have an MRI done. I decided to go ahead and do it and what I found out was astonishing. Dr. Boelk told me I had a bulging disc and that my discs were dehydrated. I went home very surprised and even scared.

That night with my husband I cried. My husband and I both talked about it and decided that the finances were worth getting my back fixed. The next thing we had to figure out was how I was going to get here, because I live in El Centro.

So we decided we were going to rent a car and I travel here 4 times a week. The girls here are wonderful and very awesome. They make you feel like family, it's an extremely relaxing environment. I feel better and I have recommended this treatment to my family and friends. Thank You !
Mercedes Bautista | Age 42 | El Centro, CA
Ira Smith, | Age 49 | Business Owner, Las Vegas, Nevada
From Las Vegas, Nevada
My name is Ira Smith. I live in Las Vegas and found out about Dr. Boelk's program here in San Diego and decided to start treatments with him. I've had lower back problems since I was very young. I had aggravated my lower back pretty bad again and usually I could do exercises, chiropractic treatment, rest and this time those things would no longer relieve my pain. I would get the sciatic pain shooting down into my leg and foot and would be pretty bad.

I found out thru my MRI's that Dr. Boelk went over with me that I had 5 protruding discs. I did not want to get surgery as I have heard and seen that they don't always work very well at all. I am 2/3 of the way done with Dr. Boelk's program and I have zero pain. I pretty much go thru my activities with no pain. As I follow the program it has been absolutely fantastic! I have been thru physical therapy, chiropractic programs, I went to the hospital and they told me I have 1 bad disc, but I found out I had 4 more bad discs as well. The treatment has relieved the pain and is not painful at all. This can be the starting point for anyone with back pain to get their life back.

This is the place to start. If your skeptical, what's your health worth? The cost of this has been way less than the cost of all my other therapies that I have gone thru. This is less money than all those things, less pain and gives you a great quality of life. This is new and modern and it fixes the problem. Use Dr. Boelk's program to change your life and it will change your life! This is the place to start. -Thank You
All the way from Alaska
"My name is Lynn. I am from Alaska, and I just want to say it was totally worth taking a trip to go to the Spinal Decompression & Chiropractic Center of San Diego. I was having pain radiating down my legs, I couldn't sleep, I could barely walk.

After treatment I am back to shoveling snow, teaching school, taking walks. So, I just want to thank Dr. Boelk and the clinic, you guys are wonderful, and you have created such a wonderful, friendly, kind and truly caring atmosphere. I highly encourage anybody that might be considering spinal decompression therapy, it really makes a difference."
Lynn C | Alaska
*Due to demand, regardless of referral from family physician, neurologist, orthopedic surgeon or chiropractor, patients are seen on a first come first serve basis.
Hotel Options For Our Out-of-town Guests
There are also many options available on www.airbnb.com.We are located only 15 minutes from the San Diego Airport.
Extended Stay America – San Diego, Mission Valley, Stadium
3060 Murphy Canyon Road, San Diego, CA 92123
Telephone: 858-292-8927
Hilton Garden Inn San Diego, Mission Valley, Stadium
3805 Murphy Canyon Road, San Diego, CA 92123
Telephone: 858-278-9300
Residence Inn San Diego Central
5400 Kearny Mesa Road, San Diego, CA 92111
Telephone: 858-278-2100